Awards and Recognition
San Mateo County Board of Supervisors
January 26, 2010. The Mounted Patrol Foundation was recognized by the San Mateo County Board of Supervisors for raising $83,000 from the equestrian community to build All-Weather Trails in Huddart Park on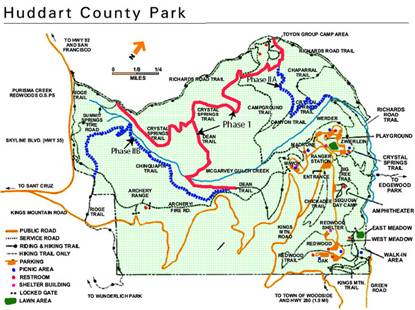 On Tuesday, January 26, 2010 the Mounted Patrol Foundation was recognized by the San Mateo County Board of Supervisors for their efforts in creating a partnership between equestrians and County Park staff to create all-weather trails in Huddart County Park and raising the funds to achieve this goal.
The dream of local equestrians to be able to ride the single-track trails of Huddart Park in the winter came true with the completion of Phase II of the All Weather Trails project in Huddart Park in December 2009.
It began that fateful day two and a half years ago, when Dave Moore asked how we could improve things for equestrians in the Parks, and Adda Quinn suggested all weather trails in Huddart would be wonderful. Since that time, the equestrian community has donated nearly $83,000 to pay for the two phases of this project. The Parks Department contributed significant staff time, truck hauling and the base rock. Ron Gonzales transported over 3,500,000 pounds of base rock down the narrow, dirt roads. The crew from Yakima Construction then hauled the base rock down the single track trails in specially built buggies, and leveled and compacted it.
Today we have 5 1/2 miles of All Weather Trails. The Phase I trails on Dean, middle and upper Crystal have been open a year now. The Phase II trails on Lower Crystal and Chinquapin will be open in April, after they have settled from the rains. One bridge was replaced, and another has had major repairs. This has been a wonderful example of how citizens and the government can work together to achieve common goals.
What better way to escape momentarily from the pressure of our daily lives than riding under a crisp winter sky, hearing the creeks bubble, and breathing the fresh mountain air?
Trails Appreciation Award
Dec 2012 - Awarded the Trails Appreciation Award by the Woodside Trails Committee for support of trail projects.
San Mateo County Horsemen's Association
Winter 2009 - San Mateo County Horsemen's Association Magazine - Article on All Weather trails in Huddart Park.
Mounted Patrol Foundation Contact Webmaster