Hitching Rails for Horses
Hitching Rails for Jack Brook Horse Camp and Pescadero Creek County Park - Oct 2017 are finally done
Way back, in August 2015, we developed a plan for hitching rails in Jack Brook Horse Camp and Pescadero Creek County Park. The ones in Jack Brook Horse Camp and Hoffman Flat Trail Head were installed in 2016. But the ones in Shaw Flat and Parke Gulch were delayed due to access issues, rains and environmental review. Friday, October 13, 2017: Installation is finally completed. Thanks to the crew from our contractor AllFence, who hauled tools to the sites and dug the holes. Thanks to Park Service Team - David Vasquez and Mark Schneider who helped with the final tasks to finish the project. see - Hitching Rails -Jack Brook-Pescadero Creek Park
Hitching Rails - Town of Woodside - April 2012 - $3,000
Woodside is a horse-friendly town, and the hitching rails in the Town Center had deteriorated over the years. With the cooperation and support of the Town of Woodside Trails Committee, 6 new hitching rails were designed, constructed and installed by the Mounted Patrol Foundation team. Funds were raised from the community, and donors were recognized on the signs on the Hitching Rails. Below are the three hitching rails near Bucks.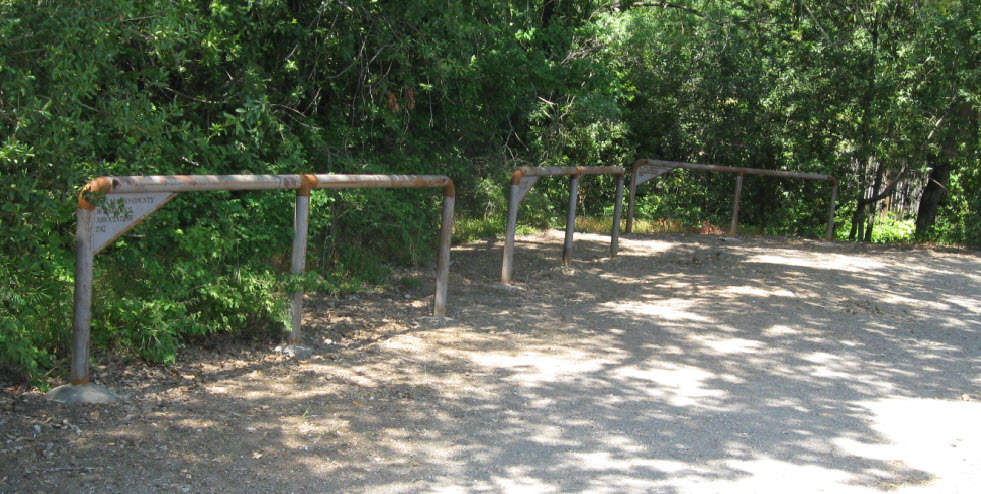 Hitching Rails - Jack Brook and Pescadero Creek County Park - Oct 2015 - $4,500
A number of equestrians have asked the County about hitching rails in Jack Brook Horse Camp and Pescadero Creek County Park. As a result of those discussions, the Mounted Patrol Foundation developed a plan for manufacturing and installing four hitching rails in the following locations:
1 - Jack Brook Horse Camp - In front of VHP camp sites -Replace old railroad posts with new hitching rail.
2 - Park Gulch Grove - Near the new bridge in the redwood grove, on the new trail
3 - Shaw Flat Trail lunch spot - Near the trail crossing of Pescadero Creek. This is a memorial to Sue Sheehan.
4 - Hoffman Flat Trail Head - For day use equestrians at the trail head. Donated by WHOA! and supported by DOTH (Day of the Horse) funds.
Mounted Patrol Foundation Contact Webmaster