San Mateo County Large Animal Evacuation Group, - SMC LAEG
Fundraising to support the evacuation of horses endangered by the August/September 2020 wildfires
San Mateo County Large Animal Evacuation Group, (SMC LAEG) is an all-volunteer group that activates when called upon by the San Mateo County Office of Emergency Services or other emergency agencies. Its mission is to provide qualified large animal handlers and horse trailers in emergency situations, to evacuate large animals in the face of disaster or emergency, and to lessen the burden on government Emergency Services. SMC LAEG also provides education on disaster preparedness. In the first week of the CZU Lightning Complex fire, they have transported over 1500 animals out of danger to safety.

While they did not have an ability to accept tax deductible donations, the Mounted Patrol Foundation as a 501(c)(3) organization organized fundraising and accepted donations on their behalf. In addition, the, MPF added their support of this effort by matching contributions dollar-for-dollar, up to $10,000! Funds will be used to cover expenses for needs from the current fires, and to help to build infrastructure and supplies for a future disaster.
We were astounded by the outpouring of generosity and support from the community for the San Mateo County Large Animal Evacuation Group. To date we have received over $41,000 in donations from over 120 different donors. This includes the Mounted Patrol Foundation's matching grant of $10,000.

Fortunately, the fires in our area are now a sad memory. Some folks, who were lucky that their homes and barns were spared, have been able to return home. For some, there is nothing to return to, and their horses will require extended care. We have funded many of the Group's immediate expenses for the fires, including hay, gas cards, corral panels, and halters. We also offered to pay for the vet supplies that the many kind generous veterinarians consumed, but they have turned down offers of reimbursement.

Unfortunately, the fire season will return next year and we might suffer similar fires n in the years to come. The remainder of the funds raised for the Large Animal Evacuation Group will be used to build the infrastructure and stock supplies to help them be ready for future fires. As part of this effort, a water trailer is being purchased to enable he Group to bring water to horses on properties that have lost power for their wells. Also, several satellite phones will be bought to permit communication with other emergency responders when, as happened this year, cell phones and 2-way radios fail to operate.

Four chip readers have been provided to enable teams to identify horses that have been separated from their homes and owners. In addition, the Foundation and the Group have plans to set up a clinic, in conjunction with SMCHA and other horse organizations, to provide chips for horses who have not been chipped. Horses with chips can be scanned to ensure the chips are working and linked to the appropriate owner with correct contact information. The Group is also planning is to purchase two supply trailers, one for coast side, and one for bay side, to keep all the necessary supplies on hand i.e. halters, ropes, buckets, ID tags, communications equipment, water, rations, emergency vests, flashlights, etc. The trailers will have solar-powered battery chargers to enable their crews and other first responders to charge cell phones, satellite phones and other portable devices. A few cots and chairs will be available to provide crews an opportunity to take much needed breaks. If there is another fire emergency, they will deploy one to the staging area and the other to the holding area
Thanks, once again, for your generous support of this important life saving organization.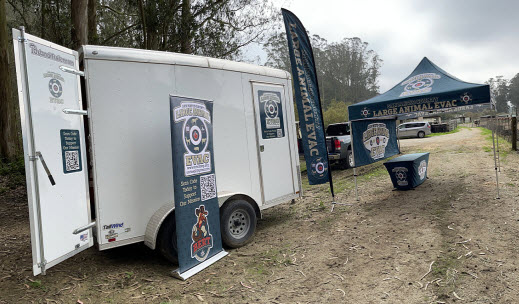 From San Mateo County Office of Emergency Services:
It is amazing what the Large Animal Evacuation Group was able to do in order to save animals' lives. At one point during the evacuations, the Group sent crews and trailers into Santa Cruz County to help them with their evacuations, as any good neighbor would do. There still remain areas within San Mateo County to which residents cannot return, due to fire and fallen trees. Their evacuated animals will continue in the care of the Large Animal Evacuation Group until they can safely be returned home.
Iliana Rodriquez, Deputy County Manager for San Mateo County says:
"SMC LAEG was a critical partner in our response to the most recent wildfires. Lori Morton-Feazell and the team were able to evacuate over 1,600 animals from the fire. I am forever thankful."
Large Animals rescued to date

314 horses (includes 2 stallions)
10 miniature horses
1 Clydesdale horse
1 Shire horse
101 pigs
7 steers
1 pony
518 cattle
1 Scottish Highland cow
9 donkeys (includes 3 wild donkeys)
6 miniature donkeys
3 pot belly pigs
81 sheep
16 llamas
12 alpacas
1 camel (Willy)
97 goats
15 ducks
300 turkeys
25 chickens
4 chicks
8 peacocks

Large animals have been transported to barns, ranches and holding facilities on the north coast, Pacifica, Woodside and Daly City.
Mounted Patrol Foundation Contact Webmaster